Crackslaw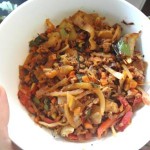 Perhaps you have read about the classic crackslaw recipe on a low carb forum or one of your friends has been raving about it but what is crack slaw and why is it called that?
Well, first things first, crackslaw is supposed to be addictive, which is how the name came about, but don't worry, there is nothing illegal in it! It is addictive in a good way because it is a filling low-carb meal packed with nutritious ingredients.
What's In a Classic Crackslaw Recipe?
This is an oriental inspired recipe featuring ground meat (or poultry or a vegetarian alternative) as well as cabbage or coleslaw mix (cabbage and carrot, usually). The dish is spiced up with ingredients like soy sauce, ginger, hot sauce and more. Continue reading →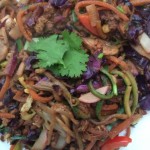 Similar to our other recipes for crackslaw yet slightly different because of the peanut butter and the lack of meat, this one is a nice change of pace. Just like with the other recipes though you should feel free to adapt this peanut crackslaw recipe and make it however you prefer. If you want to use meat, go ahead, choosing from beef, pork, chicken – as long as it is ground that is fine. Check the label to make sure it is 100% meat and no fillers.
This peanut crackslaw is really simple to make. If you do want to use ground meat, cook that first, then empty it out of the wok and proceed with step 1. Add the meat back in the end and stir until warmed through. About 7 oz of meat is good. You can add that without changing the rest of the ingredients although you might need a splash more of oil. Add the carbs from the meat to ensure the carb count is right.
Crackslaw with Peanut Butter
When I make peanut crackslaw, I love to throw in plenty of Tabasco sauce but you can use any kind of hot sauce, or even chili powder or sliced jalapenos if you prefer. Some people like more heat than others so add just a little and offer extra hot sauce on the side if you think some people wants theirs on the spicier side. Continue reading →
Some More Hot Content For You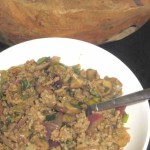 I spotted some ground veal in the grocery store last week and, since I had never tried it before, decided to use it to make veal crackslaw. I am always looking for new ideas. Crackslaw is always good but I can get bored with beef at times.
You can use any kind of ground meat to make crackslaw and I like veal escalope, so I thought why not see how ground veal works out? I combined the veal with mushrooms and other veggies, as well as all the Asian seasonings crackslaw is famed for, and the results were impressive. I really liked it!
As well as the veal, I used a package of sliced veggies including mushrooms and leeks, to make this veal crackslaw,  and you can either do similar or prepare vegetables from fresh.
I usually use shredded cabbage or a coleslaw mix but the mushroom mix also works well with the Asian flavors. In my local supermarket you can grab these on offer sometimes. Continue reading →
This lovely recipe blends Quorn (a vegetarian alternative to ground meat) with vegetables, peanut butter and other Asian seasonings to make the most delicious quorn crackslaw stir fry you can imagine. Make it as simple or as spicy as you wish.
Whether quorn crackslaw is a new concept to you or you are just seeking other recipes for this dish, this one is worthy of your consideration. Also known as veggie crack, this vegetable crack slaw recipe is addictive because of the wonderful flavors, but feel free to indulge because it's super low in carbs!
Szechuan Crack Slaw Stir Fry
It is your choice how to prepare the vegetables for this dish and also which veggies to use because pretty much anything goes in this wonderful low carb recipe.
Some people like to matchstick-cut (julienne) them while others usually opt for chopping or slicing. Continue reading →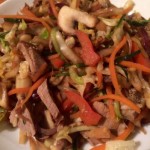 This recipes uses leftover lamb, but you could use any leftover meat to make it. Just chop it into small pieces and then you can add it to the recipe. The vegetables add flavor and color to the dish, and you can feel free to use your favorites. I love lamb crackslaw because it's tasty and oh so filling.
If you want to swap the carrot for broccoli, for example, go ahead. This could be served with a starch on the side, but I usually just have it as it is, because it is satisfying enough like that. In fact it is really filling.
This recipe is really appealing and even if you are not following a low carb diet you will love it.
Hoisin sauce does contain sugar, so avoid this dish during induction, or use a sugar-free, low-carb Chinese cooking sauce instead. Continue reading →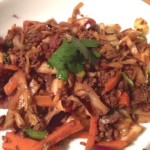 Greek seasonings work their magic in this special crack slaw recipe, while the meat and veggies are sure to fill you up. This Greek lamb crackslaw makes a change from the Asian crackslaw recipes you might be more familiar with, but if you are looking for something different this recipe is ideal.
Ground lamb is used instead of another kind of ground meat, and it makes a great substitute because it is naturally quite fatty which means it comes out succulent and juicy.
Fantastic Flavors
The Greek flavors in this Greek lamb crackslaw recipe come from the addition of tomatoes, herbs and lemon juice. You can also add some black olives if you like. For the herbs, parsley, basil, oregano or mint would go well. Continue reading →
Other Posts You Might Like