Crackslaw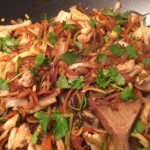 Chicken is a nice meat to use if you want to enjoy that classic crackslaw flavor but limit the amount of calories. Of course beef is tasty but it is high in calories so if you are counting those too, or at least keeping an eye on your red meat intake, you might like to consider using chicken instead. This crack slaw with chicken recipe is simple to prepare and you will love the flavor.
This recipe is made with chicken breast, which is a lean part of the bird, but is still flavorful and will soak up the lovely Asian seasonings used in the recipe.
Delicious Chicken CrackslawThe following recipe makes use of mushrooms, red onion, carrot and white cabbage, so you will not be short on nutrients or flavor.
If you like you can use different ingredients or just use cabbage (no carrots on Atkins induction, remember) or use another kind of mushrooms in this crack slaw with chicken.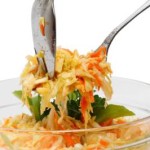 This raw crack slaw recipe shows you how to make coleslaw style crackslaw. While crack slaw is usually made hot in a wok and served like a Chinese dish, this recipe is different, surprisingly so if you have made the regular kind a few times already.
Instead of being cooked the cabbage mixture is tossed together cold and then you let it stand until the flavors are better blended. Then serve it raw. Yep, this is a recipe for raw crack slaw, and it tastes fantastic!
Flavored with all the best ingredients like vinegar, citrus juice and sesame oil, this raw crack slaw will fulfill all your hunger pangs and leave you really satisfied. Serve it alongside steak, chicken or fish, or just have it by itself. You can make this and take it to work in a sealed container, enjoying it at room temperature, or make a batch and enjoy it over the course of the next few days as a tasty side dish or whenever you fancy a snack. Continue reading →
Some More Hot Content For You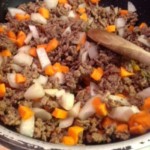 Carrots have more carbs than a lot of other vegetables, so you would not want to make this beef and carrot crackslaw recipe on Atkins Induction, for example, but if you like the sweetness of carrots, then perhaps you will love this recipe, because the carrots are particularly nice with the beef, onions and Chinese seasonings.
This crack slaw recipe is full of flavor. To cut some of the carbs, if you want to do that, swap half the carrots for shredded cabbage, or else you might like to throw in some mushrooms (Chinese mushrooms or just button ones) if you prefer.
Which Order to Cook the Ingredients In
Although you can make this beef and carrot crackslaw in stages, first browning the meat, and then removing it from the pan and browning the carrots and then doing the onions, and so on, I usually just start the carrots first because they always take a long time to do, then add everything else and just keep stirring it. Continue reading →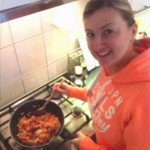 I love trying new ways of making crackslaw, and fish makes a nice, light alternative to meat. Of course, it is carb-free just like meat is, and you can choose anything between sole for a light flavor or cod for a richer flavor. I really enjoyed this fish crack slaw and want to make it often.
There are plenty of other types of fish you can use in fish crack slaw as well and examples that come to my mind include tilapia, snapper, halibut, monkfish, dogfish, basa fish, and haddock. As long as it's skinless and boneless it will work.
Don't use imitation seafood in fish crack slaw though, like those imitation crab pieces or crab sticks you can get, the reason being they usually contain either sugar or some kind of filler with carbs. If you aren't watching your carbs it doesn't matter but if you are, choose fresh, thawed or canned fish with no added ingredients. Go for 100% fish or seafood and the crackslaw will be low in carbs.
Make It on the Cheap
Because crackslaw is a spicy dish, you might like to use an economical kind of fish, because a lot of the flavor will be overpowered by the spices used to make the dish. Of course, this is your fish crack slaw recipe, so if you prefer to tone down the spice factor so you can taste the fish better, by all means go ahead.
Continue reading →
Although crack slaw is an Asian dish and is usually made with Chinese seasonings, there is no reason you cannot experiment with the dish and find your own preferred way of making it. Since this Mexican crack slaw is such a good Atkins diet recipe it is worth knowing a few variations so you don't get bored with it.
You can make it Mexican, Greek, Spanish or use other herbs, spices and seasonings to give it a totally different feel. The dish is mainly meat, poultry or fish, along with vegetables and seasonings. You won't even miss the carbs, I promise!
Typical Mexican Flavors
The following Mexican crack slaw recipe shows you how to give your crack slaw a south of the border flavor and feel. Just like with any other crackslaw recipe you can tinker around with the ingredients to get the flavor just right for you.
Some people might want more lime juice for a more piquant flavor in their Mexican crack slaw, or more chili if they like it hot. It's totally up to you, and you can also serve some low carb Mexican side dishes like avocado slices, sour cream, shredded or grated Mexican cheese, or anything else you wish. Continue reading →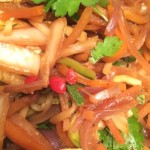 This pork and beef crackslaw recipe is made using a combination of pork and beef. Although you can make crackslaw with any kind of ground meat (including poultry if you wish) I find that combining pork with beef gives a pleasing result. The pork is juicy and the beef has its own distinctive flavor.
They just combine well, especially when making something like pork and beef crackslaw. Here in Holland you can't buy ground pork by itself (at least not in my local store) which is why I use the half and half mixture quite a lot. Yes I could grind my own pork but I haven't yet done that. I do have a meat grinder attachment on my food processor and I guess I will get around to trying it out one day (along with the juicer attachment!)
In this recipe I also used ready-shredded vegetables like these (cabbage on the left, carrot with onion on the right). If you prefer to shred your own then of course that is fine too, and often works out cheaper. I got my shredded veggies on sale.
The bag on the right is labeled "hutspot" which is a Dutch dish made by mashing potatoes with carrot and onion. But it is also very nice in pork and beef crackslaw I have discovered! And you can get it in pretty much any grocery store here because it's very popular.
Other Posts You Might Like