Low Carb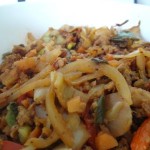 Using chicken is a great idea if you want something with fewer calories yet offering the same great flavor as beef crackslaw gives you. The following crackslaw with chicken recipe is really tasty and perfect for a low carb diet whether you are following Atkins or another low carb diet regime.
The crackslaw with chicken recipe itself is very similar to the beef version because chicken is versatile enough to be a perfect beef substitute but of course you can apply your own tweaks should you wish. Chicken is lower in calories than beef. If you're low carbing then you probably aren't counting your calories, just your carbs, but calories do matter so you might want to try this if your low carb diet isn't working properly and you're wondering whether you're still having more calories than your body can burn. Try this crackslaw with chicken dish for size.
Chicken or Beef: Either is Fine
Swapping beef for chicken affects the total calories but it does not affect the net carbs, so you can use whichever you prefer, or if there is something on sale at the grocery store just use whatever they have, even turkey or lamb or perhaps a mixed ground meat package but take a peek at the label. Here in Holland they often sneak sugar and chemicals into their ground meat (seriously!) – better safe than sorry when making crackslaw with chicken or beef. Continue reading →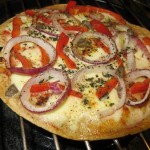 This low carb tortilla pizza is incredibly good and it takes about 10 minutes to make and the same again to cook. Whether or not you have made pizza before, you will find this low carb tortilla pizza incredibly simple, and the sky is the limit as far as toppings are concerned.
Use a low-carb tortilla to make your pizza. I recommend the Mama Lupe ones because they're so good and only 3 carbs (and 60 calories) each. And they are the closest in flavor to regular tortillas. I also tried the La Tortilla brand for my low carb tortilla pizza because those are only 50 calories each but… nope not as good as the Mama Lupe ones.
This low carb tortilla pizza recipe makes a fabulous dinner, and it is also quick enough to make for lunch. Whatever meal you are making this pizza for, you are sure to find it filling and delicious.
Keep some low-carb tortillas in the refrigerator (they keep for weeks in there) and rustle one of these up whenever you're in the mood for some comfort food! Continue reading →
Some More Hot Content For You
This creamy pumpkin bake is a low carb recipe you will love. Serve it as a snack, dessert or appetizer. There are very few ingredients required so this would be perfect for any home cook, novice, advanced, or anything between these two.
Our creamy pumpkin bake is something you might already have all the ingredients for, so why not get stuck in and make this? It is quick and easy to prepare and you will be so glad you made it.
I love pumpkin and it's available for most of the year here in its fresh form. It also keeps a long time. I buy canned pumpkin and that lasts for ages in the pantry, but make sure you choose the sugar-free kind. You want to get 100% pure pumpkin puree if possible.
Creamy Pumpkin Bake: Basic Ingredients for This Tasty Snack
You will need softened cream cheese, and you can soften it by leaving it at room temperature for half an hour, as well as pumpkin pie spice, pumpkin, eggs, Splenda and cinnamon. This creamy pumpkin bake dessert makes a change from mousse because it is not so liquid, and it can be served hot from the oven or warm, to make a nice change from all the cold low-carb dessert recipes you might be more familiar with. Give it a try and see what you think.
Continue reading →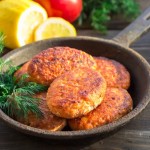 Fishcakes make an excellent meal, accompanied by a salad or your choice of vegetables, and they are also ideal for a low carb diet, making a change from the steak or chicken you might be getting tired of. Make these low carb fishcakes because you will love the taste and they don't taste like diet food at all.
A lot of people start low-carbing and over-indulge in the red meat, then wonder what else there is. Repetition can be good because you can stick to the same meals all the time but for some people repetition can be their downfall because they get bored, so add some low carb fishcakes to your meal rotation to keep things interesting.
This low carb fishcakes recipe is really easy to make. If you have a food processor, this recipe is quicker to make, but you can also make it without out. If you are used to eating regular fishcakes, you might be wondering what the potato and breadcrumbs are replaced with, to make these low in carbs.
The egg whites help the low carb fishcakes mixture to stick together, while the other ingredients add all the flavor you need. Sauteing these in hot oil will give them a nice crusty outside. Continue reading →
Other Posts You Might Like