Salad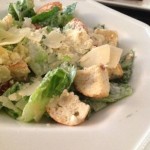 This is an amazing recipe and something I make often. In my opinion this is definitely the best chicken Caesar salad you can make. Sometimes I roast chicken legs and then make this without the chicken, and serve the two together. Caesar salad is something I love and it is one of my favorite salads. I always have Caesar dressing in the refrigerator and serve it with buffalo chicken sometimes since ranch dressing is something unheard of where I live.
Although this best chicken Caesar salad recipe uses mayonnaise in the dressing rather than raw eggs, it is still really nice. A lot of people don't like using raw eggs in recipes or can't eat them for a health reason, so this recipe is a good compromise.
This recipe combines chicken, ciabatta bread croutons and romaine lettuce with a delicious dressing and other ingredients like bacon and Parmesan cheese.
Other Posts You Might Like