lamb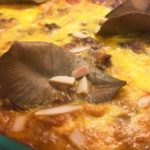 This easy bobotie recipe can be made with your choice of ground beef or lamb. A combination would also work. The dish is popular in South Africa. It is comparable to meatloaf or lasagna, but it is spiced and the topping is a savory egg-based custard.
I've made it several times and always love how the gently spiced meat layer contrasts with the rich and creamy topping. Served with yellow rice and/or a fresh green salad, this dish is something that never gets old. I like to make extra because it heats up well the following day for lunch.
If you've made meatloaf, lasagna or a similar ground meat dish, you will recognize several steps in this easy bobotie recipe. Even if you're relatively new to it, there is still nothing difficult about making this delicious South African dish. It isn't spicy so you can even make it for the kids. You might prefer to use a mild curry powder rather than a spicy one though, in that case. Continue reading →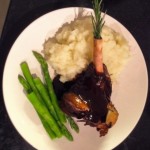 I fell in love with lamb shanks the first time I ever tried them. They are so tasty, so juicy and the flavor is amazing. Lamb shanks are best slow cooked and, although you can do them in the oven, a crockpot or Dutch oven will be your very best friend in the kitchen if you want really great results from this braised lamb shanks in red wine sauce recipe.
One lamb shank per person is enough, and they go really well with mashed potatoes and vegetables (maybe red cabbage, asparagus or carrots) along with your choice of sauce. I like to make lamb shanks in the crockpot and then either spoon the sauce directly over the meat, or else reduce it in a pan to make it thicker.
Tips for Braised Lamb Shanks in Red Wine Sauce
The following braised lamb shanks in red wine sauce recipe is best made in a Dutch oven, a large, heavy-bottomed pot. If you prefer to use a crockpot, sear the meat first, then put everything in the crockpot and cook it for about 8 hours on low or 5 hours on high, or until the lamb is so tender it is almost falling apart.
If you want to leave out any of the vegetables that is fine. At the end, you will need to use an immersion blender (handheld/stick blender) to get the sauce smooth. Add as much hot water as needed. The sauce should be thick but not too thick. Continue reading →
Some More Hot Content For You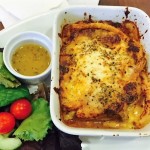 This Greek lamb pasta bake with feta is a delicious dish, pairing pasta with ground lamb, feta cheese and other Greek flavors. It is similar to pastitsio, Greece's answer to lasagna, and you will find it really delicious and warming.
Serve this Greek lamb pasta bake with feta with a simple salad on the side and a balsamic and extra-virgin olive oil dressing, or else just enjoy it by itself. If you're into carbs, a slice of lightly toasted baguette bread would go well with this Greek lamb pasta bake with feta too. There are so many pasta bake recipes to choose from, and the great thing about such a dish is you can use pretty much any kind of ground meat, any kind of cheese, and then choose your own herbs and spices to complement the flavors you have chosen to use.
Greek Lamb Pasta Bake with Feta – What Kind of Pasta?
You can use any kind of pasta for this Greek lamb pasta bake with feta. I often use penne pasta but recently discovered maccheroncelli which is a long, tubular pasta that is great with heavy sauces or in casseroles. Another similar type is perciatelle or you can use macaroni, penne, spaghetti… whatever you like really. Continue reading →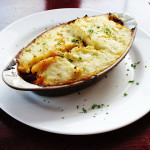 A lot of people find this British recipe for shepherd's pie perfect for the colder months, and I fall into that group. Really, is there anything more comforting or delicious than shepherd's pie when the nights are getting cooler?
Shepherd's pie is often confused with cottage pie, but shepherd's pie is made with ground lamb not ground beef. Think about it – shepherds have sheep not cows! If you want to use ground beef, then that's also tasty but it's technically cottage pie. Our British recipe for shepherd's pie is made with lamb.
We are making this in the British style, using bay leaves, thyme and Worcestershire sauce for flavor, along with meaty stock, an anchovy (that might sound like a strange ingredient but honestly it really complements the dish) and onion. The result is a fantastic British recipe for shepherd's pie dish which the whole family will go crazy for. This is nice served by itself or you can have some carrots, broccoli, peas or another vegetable on the side. Continue reading →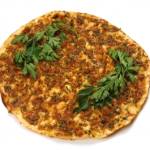 Everyone loves pizza but perhaps you are becoming a little bored with your usual pepperoni or meat feast option. In that case, it might be high time you try something brand new like our lahmacun Turkish pizza recipe. Just about every cultures has its own take on pizza. It really is a global phenomenon. In Turkey, lahmacun is a typical dish, and it is basically a pizza base topped with meat and Turkish flavors.
What Goes on Top of a Lahmacun Turkish Pizza Recipe
Also known as an Armenian pizza recipe, a lahmacun Turkish pizza recipe is usually topped with either lamb or beef, along with minced veggies and herbs, including tomatoes, onions and parsley. It is baked in the oven until done, and usually served with tomatoes, lettuce, garlic sauce, roasted eggplant (aubergine) and/or pickles.
A lahmacun Turkish pizza recipe is Turkey's answer to the thin and crispy kind we are familiar with in the West, and the flavors are very different from the Italian style of pizza. Whether you know it as pizza or flatbread (and the terms are pretty much interchangeable when talking about thin and crispy rather than deep-dish), there is no doubt this makes an exciting change. In our lahmacun Turkish pizza recipe we are making the dough but if you're in a rush you can use a regular pizza base or try to get some Turkish bread which you can top.
Next in our lahmacun Turkish pizza recipe you have a tasty topping which is based on ground lamb (or ground beef if you can't get lamb or don't like it). Add tomato, lemon, chili, paprika, garlic and sumac (a tangy, red-brown Middle Eastern spice) and your lahmacun will start to take on its characteristic flavors. Top it with a tahini and lemon dressing, then finish off with pine nuts and parsley, and your Armenian pizza recipe is complete.
Continue reading →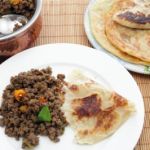 This lamb coconut curry with sweet potato recipe uses ground lamb rather than stewing lamb, and also includes sweet potato and peas, if you like, along with coconut milk, garlic, ginger, and curry powder to season it and add the flavors. This is a winter warmer and something lovely to enjoy on a chilly evening, to make a change from the beef or chicken curry recipes you usually prepare.
An easy curry recipe to make, this lamb coconut curry with sweet potato dish is sure to appeal to all the family, and if you wish to tweak it, for example by swapping the sweet potato for pumpkin, the peas for garbanzo beans, or hot curry powder instead of the mild kind, go ahead and you can really make this recipe your own.
I have made this lamb coconut curry with sweet potato a few times and really love it. It is good with rice or you could serve it with paratha or naan, or another Indian bread variety. The savory flavor of the lamb is incredible with the sweet potato, contrasting wonderfully, and there are various textures to enjoy in this dish too.
Continue reading →
Other Posts You Might Like