This easy bobotie recipe can be made with your choice of ground beef or lamb. A combination would also work. The dish is popular in South Africa. It is comparable to meatloaf or lasagna, but it is spiced and the topping is a savory egg-based custard.
I've made it several times and always love how the gently spiced meat layer contrasts with the rich and creamy topping. Served with yellow rice and/or a fresh green salad, this dish is something that never gets old. I like to make extra because it heats up well the following day for lunch.
If you've made meatloaf, lasagna or a similar ground meat dish, you will recognize several steps in this easy bobotie recipe. Even if you're relatively new to it, there is still nothing difficult about making this delicious South African dish. It isn't spicy so you can even make it for the kids. You might prefer to use a mild curry powder rather than a spicy one though, in that case.
History of an Easy Bobotie Recipe
As for the name itself, the exact origin of our easy bobotie recipe isn't known for sure. It might have come from 'boemboe' which is Malayan for curry spices, or from 'bobotok' which is a similar Indonesian dish.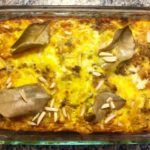 After the first bobotie recipe was printed in a 17th century Dutch cookbook, the recipe made its way  to South Africa. The Cape Malay community added curry powder, and it was often served with sambal (a type of chili sauce).
The Cape of Good Hope has been serving this dish since its inception, using lamb and pork together. Modern bobotie recipes use beef, lamb or occasionally pork for extra moisture.
Lemon, marjoram and ginger would be added to earlier recipes but these days a pinch of mild curry powder is simpler. Some mango chutney also adds to the rich, fruity flavor and that is one ingredient I always have on hand because I love it so much, especially in British Indian recipes like coronation chicken or other mild curry dishes.
More Variations for Bobotie Recipes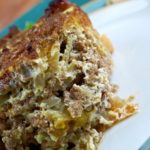 There are other variations too. Some people add walnuts as a topping while others prefer almonds. Some use chopped onions and others like to add banana as a topping or even chutney. The more you make this easy bobotie recipe the more you will find yourself coming up with your own tweaks and favorite ingredients. Go ahead and experiment; that's half the fun!
Our easy bobotie recipe is not spicy, and nor should the dish be. Rather it uses complex contrasts. There are both texture and flavor contrasts to be experienced.
One recipe dating back to 1933 used sugar, spices, lemon, vinegar and chilies to make the sauce, while another from 1923 incorporated bitter almond essence, lemon, sugar, onions, mutton and more to make a similar meal.
Modern Methods for an Easy Bobotie Recipe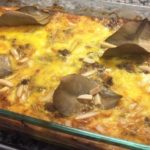 Today there are various recipes including those which originated from white settlers in Zimbabwe, Zambia, Botswana and Kenya.
Bobotie recipes were transported by South African settlers all over Africa. Today, recipes for it can be found that originated in white settler communities in Kenya, Botswana, Zimbabwe and Zambia.
In the early 1900s Boer settlers in Argentina baked the bobotie inside a big pumpkin. However you choose to prepare and serve this easy bobotie recipe, rest assured everyone in the family is going to be wowed by its amazing flavor.
Print
Easy Bobotie Recipe | South African Meat Dish
Gently spiced ground meat is sweetened with chutney and raisins, and topped with a creamy egg custard. It is then baked until the topping is set. Garnish bobotie with almonds and bay leaves.
Author:
Prep Time:

30 mins

Cook Time:

1 hour 30 mins

Total Time:

2 hours

Yield:

6

1

x
Category:

Main Course

Cuisine:

South African
3

slices white bread, crusts removed

2 1/4 cups

(560ml) whole milk

2.2

lbs (1 kg) ground beef, lamb, pork or a mixture

2

chopped yellow onions

3 tablespoons

mild curry powder

2 tablespoons

tomato concentrate

4 tablespoons

raisins

4 tablespoons

mango chutney

2

peeled, cored and diced apples
Salt and black pepper, to taste

4

lightly beaten eggs

1 tablespoon

chopped almonds

4

bay leaves
Instructions
Preheat the oven to 320 degrees F (160 degrees C).
Tear the bread into pieces and soak it in half the milk.
Cook the meat and onion in a nonstick skillet until the meat is browned.
Stir in the curry powder and cook for 1 minute.
Stir in the tomato concentrate, raisins, mango chutney, soaked bread and milk, and apple.
Grind in some salt and black pepper.
Spoon the mixture into a large ovenproof dish and cover with foil.
Bake for 45 minutes then discard the foil cover.
Mix the rest of the milk with the eggs and pour this over the top.
Add the nuts and bay leaves and cook for 30 minutes more.
Notes
Once the bobotie has cooled down, it can be sealed and frozen for up to 6 months. I like to make my easy bobotie recipe in 2 batches and freeze it in portions.