Popcorn is a delicious snack but how do you make it without using oil? Actually there are various ways to make popcorn without oil, so forget the fattening microwave kind which is laden with salt and grease, and grab some plain unpopped kernels instead. They are surprisingly cheap, which is another bonus.
An ounce of those contains just 1 gram of fat. You can pop these kernels yourself without needing any fat.
What You Will Need to Make Popcorn without Oil
Grab yourself 1/3 cup of plain kernels, a medium to large pot with a tight-fitting lid, some oven mitts or an oven glove, and some salt or another flavor to add to your finished dish. You can use more or less popcorn depending how much you want to make, but if you're using a lot then you will need to cook it in batches because of course it expands a lot and needs room to pop.
Step by Step Instructions
Preheat a burner on the stove to medium-high. Pour 1/3 of a cup of kernels into a big pot. This is going to produce 2 quarts of popcorn. If you want 4 quarts then just cook the kernels in 2 batches because they need space to pop in the pot.
Put the pot on the stove and cover it with a lid. Hold the 2 handles of the pot (use oven mitts if they are not heat-resistant) and shake the pot back and forth to keep the kernels moving. If you don't do this they will stick to the pot bottom. The kernels will start to pop in a few seconds.
What to Do Next to Make Popcorn without Oil
Listen to it popping and shake the pot 3 times every 10 seconds. When the rapid popping starts to slow down, take the pot off the heat but don't remove the lid. When you hear no more noise (after about 20 seconds) you can take off the lid. Sprinkle it with salt and, if you like, add some curry powder, cumin, chili powder or Parmesan cheese.
Want Sweet Results?
Alternatively forget the salt and add Splenda or another artificial no-calorie sweetener instead. Toss the popcorn in the bowl a bit so the seasonings get distributed evenly. Serve warm.
If you don't want to make it in a pot, keep reading, and discover how to make it with a hot air popping machine. This is quick, fuss-free and so much fun!
Hot Air Popcorn Makers to Make Popcorn without Oil
If you don't want to make this snack in a pan, you can use a machine to make it. Available from Amazon for under $40 this gadget will churn out plenty of hot delicious popcorn from kernels, and yes, kernels are really cheap! Make your own snack with the help of one of these fantastic hot air gadgets!
Presto 04820 PopLite Hot Air Popper, White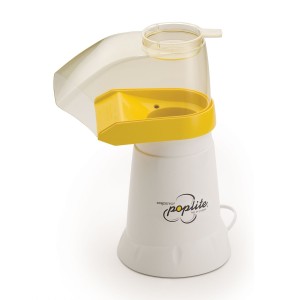 With nearly 700 top-scoring positive reviews, this is a fantastic machine. It's cheap too!
Make up to 18 cups in under 2.5 minutes, popping out the corn up to 30% faster than other leading brands.
You can use regular or gourmet kernels, it's up to you.
Don't use any fat. That way you cut up to 42% calories. You don't get the preservatives, artificial flavorings, salt or saturated fats like the microwave kind either.
The cover and base wipe clean quickly and easily.
The butter melter doubles as a measuring cup and you just put your kernels in the machine, put a bowl under the chute and flip it on.
Then put your favorite DVD on and get ready to enjoy a movie and this warm snack. Ah, bliss!
Presto PopLite Hot Air Popper, on Amazon
Cuisinart CPM-100 EasyPop Hot Air Popcorn Maker, Red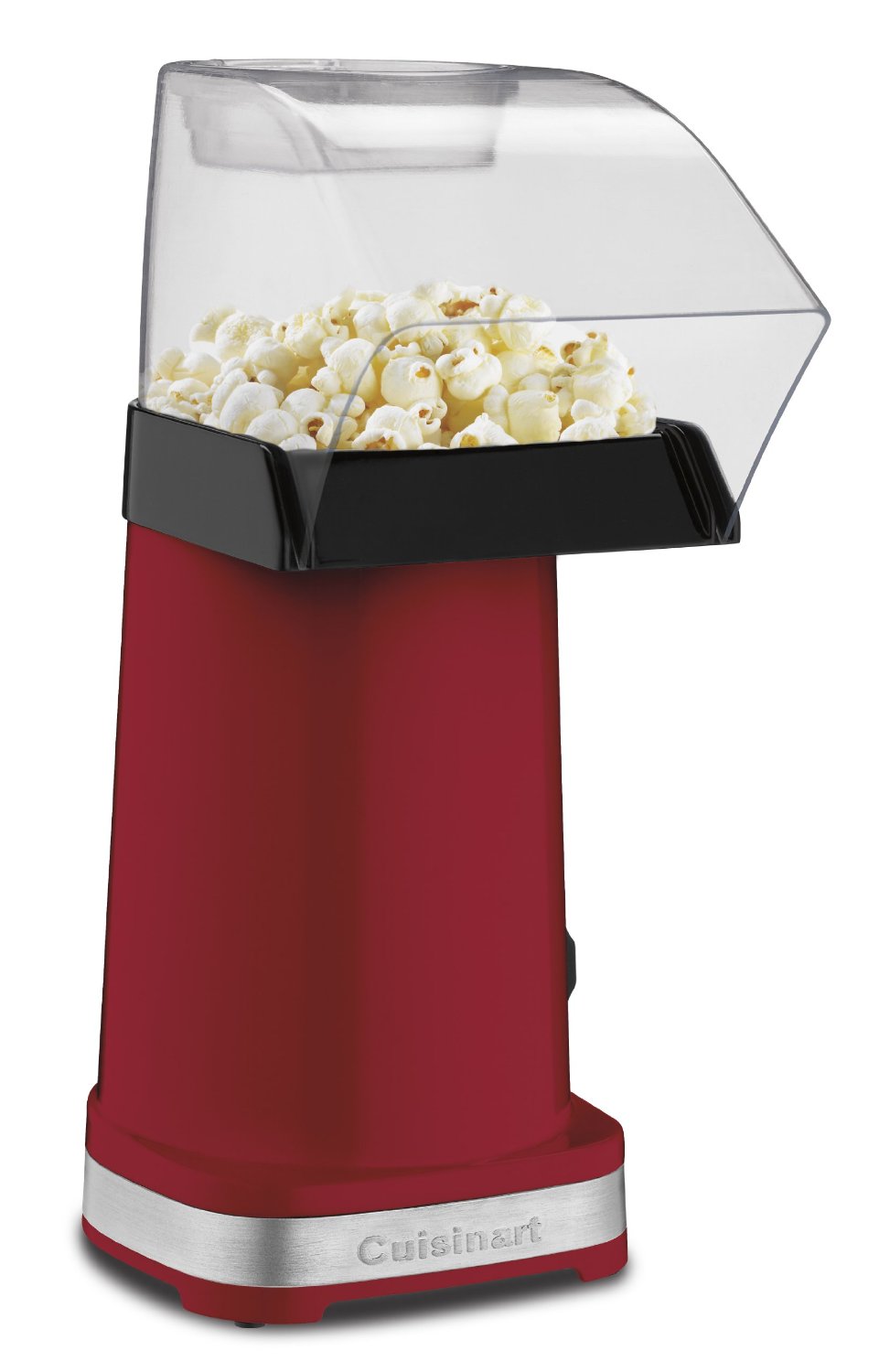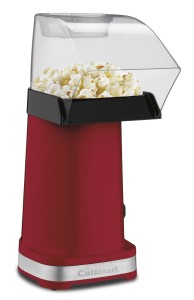 Make delicious snacks for the whole family in this fantastic machine. This one is quiet and also looks cute so just leave it on the counter all the time if you like.
This one makes 10 cups in less than 3 minutes and it has a butter warming tray and removable chute.
All the removable parts are dishwasher-safe so you can just imagine how easy cleanup is after you finish making popcorn without oil. There is an on/off switch and you can stow the cord.
Adding fat is optional. You can enjoy a fat-free, healthy snack without any additives if you want, or add some Splenda and no-sugar cocoa powder for a sweet touch, or some Parmesan, salt or curry powder if you want a savory flavor. This is a safe, reliable and handy machine.
Cuisinart EasyPop Hot Air Popcorn Maker, on Amazon
Sweet or Savory for You?
Some people like theirs sweet, flavored with chocolate, caramel or simply sugar, while others prefer it savory, tasting of salt and butter or just salt. Which camp do you fall into? Are you more of a salty or sweet fan? I actually like both and get my bucket 1/2 filled with each at the movie theater, but my preference would be savory if I had to pick just one.
Chocolate Pop Corn
Cook it without fat and you can indulge yourself with chocolate to make up for it! Simply add a few squares of chocolate to your pop corn while it is still very hot, put the lid back on the pan and shake until the chocolate has melted and is evenly distributed over the snack. Heaven!