Low Calorie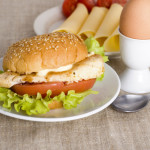 WeightWatchers is certainly a diet to consider if you want to lose a few pounds. This company was founded by Jean Nidetch from Brooklyn in the 1960s. Today WeightWatchers is international and operates in more than thirty countries. There are lots of WeightWatchers recipes you can make, most of which are really tasty.
This diet program includes regular meetings, group support and a points system to calculate how much food you can eat in order to shed excess weight.
Weightwatchers Recipes and Weight Watchers Points
Each type of food or beverage has a point value and you first calculate how many points you are allowed per day (depending on your weight, height and activity level) and then you keep track of what you eat. It helps to join Weight Watchers online and/or attend weekly meetings, especially if the support of others inspires you to keep to the WeightWatchers recipes and other allowed foods on this diet.
Continue reading →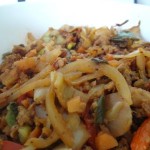 Using chicken is a great idea if you want something with fewer calories yet offering the same great flavor as beef crackslaw gives you. The following crackslaw with chicken recipe is really tasty and perfect for a low carb diet whether you are following Atkins or another low carb diet regime.
The crackslaw with chicken recipe itself is very similar to the beef version because chicken is versatile enough to be a perfect beef substitute but of course you can apply your own tweaks should you wish. Chicken is lower in calories than beef. If you're low carbing then you probably aren't counting your calories, just your carbs, but calories do matter so you might want to try this if your low carb diet isn't working properly and you're wondering whether you're still having more calories than your body can burn. Try this crackslaw with chicken dish for size.
Chicken or Beef: Either is Fine
Swapping beef for chicken affects the total calories but it does not affect the net carbs, so you can use whichever you prefer, or if there is something on sale at the grocery store just use whatever they have, even turkey or lamb or perhaps a mixed ground meat package but take a peek at the label. Here in Holland they often sneak sugar and chemicals into their ground meat (seriously!) – better safe than sorry when making crackslaw with chicken or beef. Continue reading →
Some More Hot Content For You
The first time I saw a photo of Vietnamese summer rolls I just thought 'wow'! I love spring rolls (egg rolls) because of their wonderful crispy exterior, but summer rolls are slightly different, still oozing Asian character but featuring a very different coating and a more subtle, fragrant characteristic which you will love.
These are lovely in the summer (hence the name) but perfect served as an appetizer or light meal any time of the year.
What are Vietnamese Summer Rolls?
A summer roll is a Vietnamese dish made by enclosing a filling in a soft rice paper wrap. Typical ingredients used to make the filling include shrimp, pork, rice vermicelli, and vegetables. Continue reading →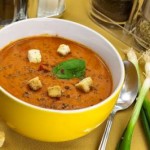 I love making this 100 calorie vegetable soup but I am quite lazy sometimes! Even though I will go to the trouble of roasting pumpkin to make pumpkin soup or caramelizing onion for French onion soup, other times I like to toss the ingredients into a pot.
Then I forget about it for an hour, then puree the results, and actually that's how you end up with a really good vegetable soup recipe sometimes! If you're new to making soup (or looking for some vegetable soup ideas) read on for a very easy recipe for 100 calorie vegetable soup.
I'd like to share my 100 calorie vegetable soup recipe with you because I've made it a few times now and it makes a really fantastic lunch.
Although each time I make it slightly differently the flavors are similar, and you can also tweak the recipe to make it fit your taste. The calorie count is roughly 100 calories per bowl, so add some crusty bread and you have a low calorie, filling lunch. Continue reading →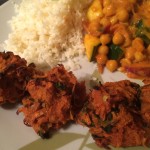 Before we go into the details of our easy pakora recipe you might be wondering what is pakora exactly. That is a very good question! Pakoras are made by combining grated or finely chopped vegetables (and perhaps other ingredients) with Indian spices, then cooking the results in little balls until crispy, either frying or baking them.
Hot and Typically Indian
This crispy Indian snack is best served hot. There are different types of pakora, and you can use meat to make it or even keep it vegetarian. These treats may be served alongside other Indian favorites, such as a chicken curry and rice, or you can enjoy them as an appetizer. Some people like to order onion bhaji in the Indian restaurant as well as pakoras, because these two are nice enjoyed together, perhaps with a dipping sauce.
I like to get poppadoms with the trio of sauces (mango chutney, mint raita and the onion one) and either pakoras or onion bhaji too. I always wondered how easy it was to make an easy pakora recipe at home and now I know! I suppose there are trickier recipes you can use but this recipe is pretty easy to follow and the results are lovely. Continue reading →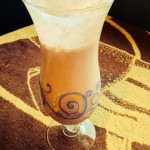 This wonderful strawberry apple smoothie recipe makes the most amazing smoothie. If you are in the mood for something cool, fruity and reminiscent of the summer then go ahead and make this. It only takes a few minutes and the flavor is amazing.
The texture of our strawberry apple smoothie is not too thick or too thin but just right, so you can use a straw if you want. Frozen strawberries are always found in the bottom drawer of my freezer. Not only are they handy to thaw and add to yogurt or whiz up with cream sugar to make mousse, but they are cheaper than fresh strawberries. I save the fresh ones to enjoy with Greek yogurt as a dessert or sometimes I add a few to the juicer.
Frozen strawberries are also perfect for adding to smoothies and shakes because a good blender will break them up perfectly and they will chill the drink as well as ice does! Continue reading →
Other Posts You Might Like