greek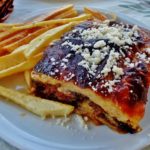 I have to say this moussaka with potatoes and eggplant is one of my absolute favorite dishes. Moussaka is popular in countries of the former Ottoman empire. There are lots of regional and local variations. This dish might be made with potatoes or eggplant, or both, and usually with ground lamb too.
Moussaka is eaten cold in Arabic countries, sauteed and served casserole style in Turkey, and layered and served hot in the Balkans. A lot of moussaka variations have an egg-thickened milk sauce on top, or a bechamel (flour-based) sauce.
Origin of the Word Moussaka
The word moussaka comes from mousakás, a Greek word, which came from the Turkish musakka and the Arabic musaqqa'ah, meaning chilled. The dish is usually based on ground meat, sauteed eggplant and tomato.
The Greek version has meat, eggplant and a bechamel sauce and it is baked in the oven. It is thought the Greek version dates back to the 1920s. The sliced eggplant layer on the bottom is topped with a ground lamb and tomato layer, and then you also have onion, garlic, allspice, cinnamon and black pepper in there for flavor. On top is a bechamel sauce layer. Continue reading →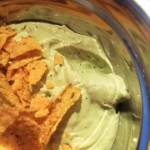 Dips are always fun to make, especially if you have a food processor and can whip them up in seconds! Although sometimes a hot dip is good, such as this hot and creamy crab dip or even our tasty artichoke dip, cool and creamy dips are also good. Try our Greek yogurt avocado dip if you like cool, creamy dips for your chips or crudites.
When I made this particular recipe I enjoyed it with Doritos, but you could serve this with crackers, vegetable crudites, melba toast, baguette bread slices, corn chips, potato chips, or anything else you want to dip in there. I made this in literally 3 minutes and the flavor was amazing. I wasn't planning to eat all of this Greek yogurt avocado dip but, uh, well you know how it is!
What You Need to Make Greek YogurtAavocado Dip
You will need some Greek yogurt, an avocado, some lime juice, and salt and black pepper to taste. If you want, you can swap the Greek yogurt for sour cream or use half and half. I've made it both ways, and both are good. Serve this as a Greek yogurt avocado dressing over salad if you want. If you prefer a thinner consistency, add a splash of milk (only a little bit because you don't want it too thin). Some cilantro in the Greek yogurt avocado dip is also nice, or you could put a small pinch of garlic powder in there. Even some hot sauce for a special zing! Continue reading →
Some More Hot Content For You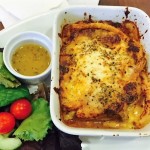 This Greek lamb pasta bake with feta is a delicious dish, pairing pasta with ground lamb, feta cheese and other Greek flavors. It is similar to pastitsio, Greece's answer to lasagna, and you will find it really delicious and warming.
Serve this Greek lamb pasta bake with feta with a simple salad on the side and a balsamic and extra-virgin olive oil dressing, or else just enjoy it by itself. If you're into carbs, a slice of lightly toasted baguette bread would go well with this Greek lamb pasta bake with feta too. There are so many pasta bake recipes to choose from, and the great thing about such a dish is you can use pretty much any kind of ground meat, any kind of cheese, and then choose your own herbs and spices to complement the flavors you have chosen to use.
Greek Lamb Pasta Bake with Feta – What Kind of Pasta?
You can use any kind of pasta for this Greek lamb pasta bake with feta. I often use penne pasta but recently discovered maccheroncelli which is a long, tubular pasta that is great with heavy sauces or in casseroles. Another similar type is perciatelle or you can use macaroni, penne, spaghetti… whatever you like really. Continue reading →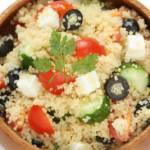 The following Greek couscous salad offers all the wonderful flavors typically found in Greek salad. Those include feta cheese, tomatoes, Kalamata olives and cucumber, along with a bright and zingy lemon-based dressing. But then you also have couscous in there which works perfectly and makes the Greek couscous salad more filling.
This Greek couscous salad is a versatile dish which can be served as an appetizer or main dish, perhaps teamed with some crusty bread and aioli or butter. It can be served chilled or at room temperature although we prefer it at room temperature because the flavors are better that way. Making a change from a Greek pasta salad recipe or other chilled Greek vegetable dish, you will find this refreshing and tasty.
Continue reading →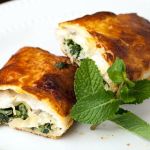 This amazing Greek dish is famed not only in Greece but anywhere in the world there are Greek people or Greek restaurants. I personally love Spanakopita Greek spinach pie and one slice is never enough! The joy of Spanakopita Greek spinach pie is that it is made with phyllo pastry. Adding melted butter between the pastry layers makes it really flaky and tasty. The filling is spinach, egg, 2 kinds of cheese, onion and parsley, and the flavor is simply amazing.
You can either make triangular servings or one large Spanakopita Greek spinach pie which is cut into slices. The method is the same but the large pie will take about twice the time to bake as the individual portions, so the choice is yours which to make. Although phyllo (also spelt filo) dough is more common, some recipes will tell you to make a flour and water crust instead which offers a heavier texture.
This type of dough is made in the Greek islands. Some recipes call for salty, white, fresh cheese to be used instead of the feta, and we usually add parmesan too, for a nice tangy contrast.
Continue reading →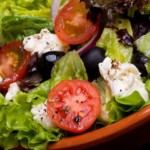 Greek salad is one of the most popular kinds, which is why most people have a good idea of what goes in there. Our traditional Greek salad recipe is simple to put together and you will recognize all the wonderful Mediterranean flavors in there.
Feta cheese, olives, cucumber and tomatoes usually feature in this salad, but how do you make Greek dressing to finish it off in style, so you can close your eyes and imagine you are sitting by the ocean on a Greek beach? Read on and discover how to make our tasty and traditional Greek salad.
This traditional Greek salad recipe is very simple and suitable for even novice home cooks. Sometimes I like to make this for lunch, or even for a light dinner. Serve it with bread and aioli (garlic mayonnaise) if you want. Something else you can do is serve this Greek salad recipe as an appetizer, in smaller portions, before the main dish or else serve it as a side dish with our easy roast duck legs recipe.
Other Posts You Might Like