noodles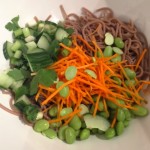 I love all kinds of noodles but soba noodles are my favorite. The word 'soba' means 'buckwheat' in Japanese and it also refers to thin, buckwheat noodles. In Japan the word refers to any thin noodles. These can be served hot or cold, with a dipping sauce or in soup or you could make an easy soba salad. Buckwheat can be harvested 4 times a year because it takes 3 months to reach maturity and be ready for harvesting.
Soba noodles are sold at railway stations in Japan, and they also feature on the menus in high-end restaurants, making them a versatile component in a variety of dishes, not just easy soba salad recipes.
Soba noodles are often drained and chilled in the summer, or served hot with a soy dashi broth in the colder months. Easy soba salad is a popular summertime treat. They might be served with soba tsuyu, a type of dipping sauce, on the side, and maybe bits of dried nori seaweed on top.
The diner will use chopsticks to pick up some noodles and dip them in the sauce. Green onions and wasabi might be mixed into the sauce. Hot broth changes their consistency, which is why a lot of people prefer to have them cold. In Japan, the water in which the noodles were cooked is often drunk after the noodles have been eaten, with the leftover sauce mixed in for flavor. Continue reading →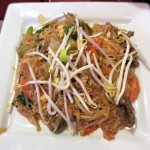 I never get tired of this wonderful dish – it really is the best traditional Pad Thai recipe. The rice noodles, shrimp, tamarind, nuts, lime juice and other ingredients work together in perfect harmony and the flavor is simply wonderful.
The full name of pad thai (sometimes spelt pat thai) is kway teow pad thai, which means stir-fried rice noodles in a Thai style, and it is thought to be a southern Chinese dish which was introduced to Thailand in the mid-20th century.
Pad Thai Noodles
It is important to cook the noodles perfectly in order to make the very best traditional Pad Thai recipe. You will need 'rice sticks' which are dried flat noodles. Some people soak them while others boil them. I've tried both ways and both work fine. Continue reading →
Some More Hot Content For You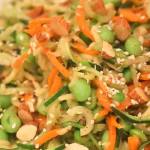 This edamame noodle salad is a fantastic recipe and boasts wonderful Asian accents in every mouthful. Making this edamame salad recipe couldn't be simpler. You just need to prepare and combine the salad ingredients, whisk all the dressing ingredients together then combine the lot to make a colorful, healthy salad. This is a vegetarian edamame salad but swapping the honey for agave nectar makes this a vegetarian edamame salad if you want to do that instead. If you aren't vegetarian or vegan, feel free to add some shredded cooked chicken breast to the mix.
This edamame noodle salad makes a great lunch and because there are no creamy ingredients in there or anything that means it needs to be refrigerated all the time, you might want to take it to work and have it for lunch. It certainly makes a change from sandwiches anyway! You could even serve this with meat or seafood as a side dish.
You can find edamame already shelled in the freezer aisle. Just thaw it overnight in the refrigerator then drain off any water that comes off. You can also buy these beans in their shells but then you will have to cook and shell them, which makes more work for you.
Continue reading →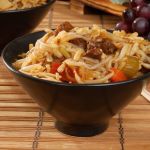 An easy beef chow mein is one of the tastiest Chinese dishes and if you are in the mood to rustle up your own, rather than ordering takeout, you can expect not only to save money but also to be able to enjoy a superior, more authentic flavor. You can make this easy beef chow mein in about 15 minutes flat, maybe less, and enjoy it for lunch or dinner.
Different Types of Chow Mein
Chow mein translates to mean fried noodles. Chow means 'fried' and 'mein' means noodles. There are 2 main variations of the dish – Hong Kong style which is with crispy noodles, or steamed chow mein.
In this recipe we are pairing beef and noodles with various vegetables (feel free to substitute any you don't like for veggies you do) and keeping the seasoning simply by using soy sauce and oyster sauce, as well as a splash of sesame oil, to add that authentic Chinese flavor.
Continue reading →
Other Posts You Might Like