potatoes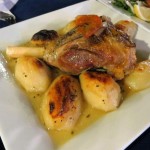 This easy roast duck leg with potatoes recipe makes a wonderful dinner. The duck combines perfectly with the roasted potatoes and you should also add your favorite green vegetable, or even some kind of salad on the side. A Greek salad would go well with this or consider some stewed red cabbage or similar.
You will need a couple of duck legs for this easy roast duck leg with potatoes recipe, along with potatoes and thyme. The duck is fried skin side down in a roasting pan, then you can flip it over and add the potatoes.
Add thyme, salt and black pepper, and then you can roast the duck and potatoes for about an hour and a half or up to two hours. As soon as the potatoes are crispy and the duck meat is tender, you can serve this easy roast duck leg with potatoes.
This easy roast duck leg with potatoes recipe makes enough for 2 people but it is very easy to double if you want to make more. The great thing about this dish is its simplicity.
What You Need to Make Easy Roast Duck Leg with Potatoes
All you need for this easy roast duck leg with potatoes are a few ingredients but you can tweak it any way you want, perhaps adding lemon juice or orange juice and dried herbs to the duck for a Mediterranean or Greek touch, sprinkle 5-spice over it for an Asian twist, or you can use some potato and some carrot, or some potato and some celery, or any other dense vegetables you want. If you want to use soft vegetables, like mushrooms or bell pepper, add them 30 minutes before the end of the cooking time.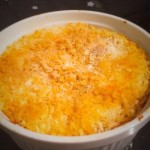 So what do you do when you have leftover mashed potatoes? It's a waste to throw them out, but who wants to reheat them and risk cold lumps or dried out mash? Let me come to your rescue with my best leftover mashed potatoes recipe ideas.
Through experimenting I've come up with a really good way to use up leftover mashed potato, and this recipe is easy to make and really good. It goes with everything! I made the original mashed potatoes using half Carisma and half sweet potato (my husband's diabetic so we avoid regular mash) but as usual I made too much!
One of the Best Leftover Mashed Potatoes Recipe Ideas
I mashed a little sour cream into the leftovers, then spread them in a baking dish, topped with parmesan and panko breadcrumbs, and baked in the oven until hot, and until the panko was golden brown. The flavor is really good. The potatoes are piping hot and the texture stays the same. It doesn't taste like reheated leftovers. Trust me, this is one of the best leftover mashed potatoes recipe dishes you can make.
There are other things to do with leftover mashed potatoes, such as combining them with leftover vegetables, covering in flour and pan-frying in oil until crispy, but this crispy panko mashed potatoes dish is especially good.
The following best leftover mashed potatoes recipe doesn't mention quantities because I don't know how much leftover mash you have, but just use a little sour cream then add parmesan and panko to cover in a thin layer. If the panko browns too fast, wrap some foil around the baking dish. If it doesn't brown enough give it a couple minutes under the broiler at the end.
Continue reading →
Some More Hot Content For You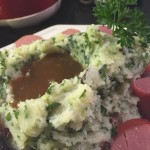 Dutch kale stamppot is a dish I make often, first because my husband is Dutch and grew up with it, and second because it's hot, comforting and delicious! Perhaps you have tried other Dutch recipes such as our slavink recipe, or maybe you are new to this cuisine. Either way, you will find Dutch kale stamppot with sausage very simple to prepare.
You will need mashing potatoes (I use low GI Carisma potatoes because my husband is diabetic) along with kale. Those are the main two ingredients in kale stamppot, known in Holland as boerenkool stamppot.
In addition, I recommend some smoked sausage, known locally as rookworst. This has a similar texture to a thick frankfurter. Use another kind of sausage if you prefer, or even franks if that's all you can get where you are, but look out for the typical Dutch rookworst sausage, because I can't imagine a better match than stamppot and rookworst! Yes, the sausage really makes the Dutch kale stamppot what it is.
Some crispy bacon makes a nice garnish too, although that's optional in this Dutch kale stamppot recipe. The potatoes and kale are drained and mashed with butter, salt, pepper and a splash of vinegar if you like. I like to add raisins too but that's optional. Continue reading →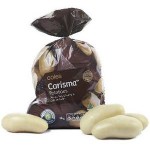 When my husband was diagnosed with Type II diabetes a few months back, he was told to avoid sugary foods along with processed food, white potatoes, white pasta, white rice, milk chocolate and, well, the list went on. Being a Dutchman he is very into bread and potatoes so he thought those would be hard to quit. He eats whole wheat bread and the occasional sweet potato, both of which are OK for him, but I knew he missed the other stuff. And then we discovered Carisma potatoes!
Carisma Potatoes – How We Discovered Them
Anyway, to cut what could be a long story short, last weekend at the supermarket I spotted something called 'Carisma potatoes' and couldn't believe it when I read the package and discovered they were diabetes-friendly! Diabetic potatoes? How could it be? I decided to buy a package and see what they were like. I wasn't sure about Carisma potatoes, since I'm not keen on most low-carb breads and candies, and I don't know if you've tried low-carb 'pasta' but yeuch!
Carisma potatoes are oval in shape and they have a pale, thin skin. The Carisma potatoes package advises you they can be boiled, mashed or used to make potato salad. To keep them low GI, leave the skin on. The reason for this is that is how they were prepared when their GI (more about that in a minute) was tested. I boiled them, sauteed them, mashed them and also made a potato salad to try them out, and I was really impressed, as was my husband!
Continue reading →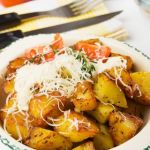 There are thousands of potato recipes, and many ways to prepare roast potatoes, including this spicy roast potatoes recipe. One of the nicest things to do with them is spice them up before roasting, and then you will be able to enjoy the aromatic spices and the potatoes too with their crispy outsides and fluffy hot insides.
The following spicy roast potatoes recipe is very simple to make. You will need floury potatoes like King Edward, Yukon Gold, Charlotte, Maris Piper, or Duke of York.
Floury varieties are better for mashing, fry-making or roasting, while non-floury potatoes suit boiling better.
If you try to boil a floury potato it is likely to disintegrate, but the dry, fluffy texture of floury potatoes make them idea for roasting when you want the outside to crisp up to golden brown perfection and the inside to be perfectly fluffy.
Continue reading →
Other Posts You Might Like