asian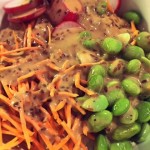 This is my current favorite crunch Asian salad with sesame dressing recipe. It contrasts crunchy and soft ingredients and boasts a wonderful Asian flavor in every mouthful. What really finishes it off perfectly is the roasted sesame dressing. I like to use rice noodles for this, although egg noodles would also work, or even thick udon noodles.
For the vegetables in this Asian salad with sesame dressing, I like to use edamame beans, grated carrot and radish. You can either thaw some frozen shelled edamame beans or use fresh shelled ones, as you prefer.
Buy grated carrot to save time when making an Asian salad with sesame dressing, else you can shred or grate your own in, maybe in a food processor or using a julienne peeler. If you want to use other ingredients instead, consider blanched broccoli florets or asparagus spears. Continue reading →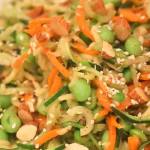 This edamame noodle salad is a fantastic recipe and boasts wonderful Asian accents in every mouthful. Making this edamame salad recipe couldn't be simpler. You just need to prepare and combine the salad ingredients, whisk all the dressing ingredients together then combine the lot to make a colorful, healthy salad. This is a vegetarian edamame salad but swapping the honey for agave nectar makes this a vegetarian edamame salad if you want to do that instead. If you aren't vegetarian or vegan, feel free to add some shredded cooked chicken breast to the mix.
This edamame noodle salad makes a great lunch and because there are no creamy ingredients in there or anything that means it needs to be refrigerated all the time, you might want to take it to work and have it for lunch. It certainly makes a change from sandwiches anyway! You could even serve this with meat or seafood as a side dish.
You can find edamame already shelled in the freezer aisle. Just thaw it overnight in the refrigerator then drain off any water that comes off. You can also buy these beans in their shells but then you will have to cook and shell them, which makes more work for you.
Continue reading →
Some More Hot Content For You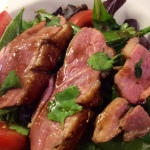 This warm duck breast salad is one of my favorite recipes, and my husband especially loves this dish! It is really easy to make too, and a good introduction to the joys of working with duck breast. It does not take long to make. In fact you can have it ready in under half an hour, including both cooking and prep time.
This warm duck breast salad is filling enough to be the main dish, but if you were looking for an appetizer duck salad then simply use this recipe to serve 4 and it will make a tasty, filling appetizer dish, or even 6 if you don't want such large appetizer servings.
Any leftover duck can always be refrigerated then used the following day to make tasty sandwiches. It will keep for a few days in the refrigerator actually, in a covered container. Chop it and add it to a risotto, pasta dish, pilaf, or something else.
The dressing is a simple 4-ingredient mixture which brings out the beauty of the duck flavor, while the salad can be anything you like, although keeping it simple with salad leaves, tomatoes and green onions is a good idea.
Continue reading →
These chicken potstickers are so good. One is never enough. Ten is too many. Well maybe. They're just so tasty you'll want to keep popping them into your mouthy! Potstickers are an Asian delight, and these little snacks are usually filled with meat and vegetables, along with Chinese seasonings. Pork is often used, but here we are using chicken instead.
This chicken potstickers recipe is very simple to make and the potstickers make fantastic appetizers, whether you want to serve hot snacks with drinks, or a first course before your entree at dinner.
You can use turkey if you prefer it to chicken. Along with the poultry these potstickers include cabbage and green onions, along with ginger, sesame oil and garlic for flavor. First you make the filling for these chicken potstickers and then you will be dividing the filling between the gyoza or wonton wrappers to make the potstickers. They are then fried and then steamed, to give them the golden brown crust on the bottom and soft finish on top, the qualities they are famed for.
Continue reading →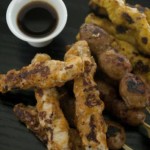 Chicken yakitori is a Japanese dish made with chicken meat or chicken offal which is threaded on to bamboo skewers and grilled. Order a chicken yakitori recipe in a restaurant in Japan and you will be asked whether you want it done with salt or with tare sauce (a sake, soy sauce, sugar and mirin condiment) and this will go on the chicken before cooking.
A Traditional Japanese Flavor
The following chicken yakitori recipe is very simple to make and you will love the flavor of it. The chicken is flavored with mirin, soy sauce, sugar, garlic and green onion, then grilled until done. While any part of the chicken can be used to make yakitori in Japan, like the breast, thighs, giblets or liver, I like to use chicken thighs because they are tasty and moist. Continue reading →
The first time I saw a photo of Vietnamese summer rolls I just thought 'wow'! I love spring rolls (egg rolls) because of their wonderful crispy exterior, but summer rolls are slightly different, still oozing Asian character but featuring a very different coating and a more subtle, fragrant characteristic which you will love.
These are lovely in the summer (hence the name) but perfect served as an appetizer or light meal any time of the year.
What are Vietnamese Summer Rolls?
A summer roll is a Vietnamese dish made by enclosing a filling in a soft rice paper wrap. Typical ingredients used to make the filling include shrimp, pork, rice vermicelli, and vegetables. Continue reading →
Other Posts You Might Like