easy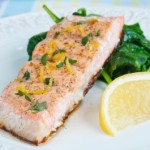 This is an incredibly easy recipe and a great way to prepare salmon. Here we are adding lemon and lime juice to the fish, along with lemon and lime zest if you like. You could stick to either lemon or lime or, like I prefer to do, use some of each for a more interesting flavor in this lemon and lime salmon recipe. Add the zest too if you want, to add more citrus flavor to the salmon and also to add a decorative touch.
Last time I made this lemon and lime salmon recipe, I sprinkled some Old Bay seasoning over the salmon. I wasn't sure whether my husband would like it because he hates celery and celery seed is a major ingredient in Old Bay but he did so that worked out well! I love Old Bay with crab cakes and other seafood dishes, and actually it's great with salmon as well, especially with lemon and lime salmon.
For Lemon and Lime Salmon, Remember: Fresh is Best!
If you only have bottled lemon and lime juice, use that for the lemon and lime salmon, but honestly it pays to use the fresh stuff because it really is better, plus you can serve some lemon and lime wedges on the side too which always looks nice. Serve this with spinach, snow peas or broccoli, and perhaps some mashed potato too or a potato salad if you prefer. You might even prefer a different grain such as couscous or quinoa.
Continue reading →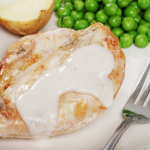 This baked chicken breast with cream of chicken recipe is quick and easy. It makes a great family dinner and everyone at the table will enjoy it. All you need to make this is chicken, a can of cream of chicken soup,  milk, and poultry seasoning.
The resulting baked chicken breast with cream of chicken is juicy and delicious, and pairs wonderfully with mashed potatoes, pasta or rice, and pretty much any vegetable. Try asparagus, broccoli, carrots, corn on the cob, or even colorful mixed veggies.
An Incredibly Easy Baked Chicken Breast Recipe
Anyone can make this baked chicken breast with cream of chicken recipe because it is really simple, and the fact you only need 4 ingredients makes it all the more appealing. Feel free to tweak the recipe, swapping the cream of chicken soup for cream of mushroom soup, cream of celery soup, or even cheese soup. Any of these will work perfectly. Just make sure you're using condensed soup.
You might even want to use half chicken and half celery soup, or half mushroom and half cheese to make baked chicken breast with cream of chicken. If you don't have condensed soup then reduce the amount of milk. For a richer, creamier result, swap some of the milk for Half & Half or light cream.
Continue reading →
Some More Hot Content For You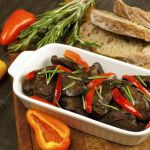 Chicken is one of the most popular meats worldwide, although many of us will gladly buy the breast or drumsticks but be hesitant about the livers – enter chicken livers Middle Eastern style. Once you know this recipe you will want to make it over and over!
Once you try chicken livers though, you are sure to change your mind, because the flavor and texture are both very enjoyable, and these livers are really versatile too – a Middle Eastern flavor works very nicely, but there are plenty of other cuisines using these livers, each adding their own flavors and using their own take on flavors to complement the distinctive liver taste.
Chicken Livers Middle Eastern: Deliciously Simple
We have kept the following chicken livers Middle Eastern recipe deliberately straightforward, because it will be the first time some of you have cooked chicken livers, and we just want to show you how easy they are to prepare. In this recipe some vegetables are sauteed in a pan, then the livers and seasonings go in. Another few minutes and the dish is ready to serve, perhaps with rice or potatoes. How easy is that?
Continue reading →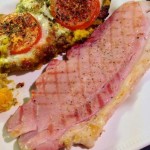 Gammon steak is one of the most delicious treats you can have for your dinner. Learn how to cook gammon steak and you will be able to make a delicious meal. If you have not enjoyed this juicy treat in a while you might be in the mood for it tonight, in which case read on and find out how to prepare it like a pro for juicy and succulent results.
Gammon steak cooks quickly and some people accidentally overcook it, which you will want to avoid.
What is Gammon Steak Anyway?
If you are in the UK you will probably already know what gammon is, but our friends across the Pond might not! Gammon comes from an Old Northern French word 'gambe' which means the hind leg.
Gammon steak is the hind leg of a pig (the ham) after it is boned and rolled or cut into individual steaks. Continue reading →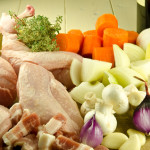 Coq au vin is a wonderful French dish featuring chicken, bacon, mushrooms and red wine. Other typical ingredients in this dish include garlic, thyme and onion. Our easy recipe for coq au vin shows how to to prepare this wonderful French treat.
If your mouth is watering already you are not alone. This combination of ingredients appeals to nearly every palate, offering both richness and gentle aromatic flavor.
Harmonious Flavors Come Together
The red wine and bacon work beautifully together to add a special rich taste to the finished easy recipe for coq au vin dish, and of course the chicken thighs offer plenty of juicy flavor of their own. Continue reading →
Other Posts You Might Like