french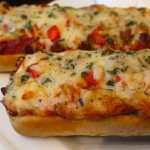 Pizza comes frozen or from the pizza delivery place or from your local Italian restaurant. But wait, what about the best pizza? Well that would be the kind you make yourself at home! Honest, it's so quick and easy to make pizza yourself and you don't even have to make the dough. This homemade pizza on French bread will have the kids (and grownups) beating down the kitchen door, it smells so good!
The quickest pizza recipe probably has to be this tortilla pizza but next up you have baguette pizza or French bread pizza, which is French bread, French stick or baguette bread (however you call it) topped with tomato sauce and pizza toppings to make the most amazing appetizer or main dish.
Why Use French Bread as a Pizza Crust
French bread makes a great pizza crust since it is naturally crispy on the outside and soft in the middle. It really is so delicious! Top with your favorite sauce and toppings and you will find just anything goes. Get as inventive as you wish with a homemade pizza on French bread.
In addition to French bread being crispo and tasty, it holds the sauce and toppings really well, so the next time you fancy Italian food but not spaghetti carbonara or traditional pizza, consider this French bread pizza recipe and rustle up something quick, easy and above all… tasty! I like shrimp on mine, or maybe tuna or another kind of seafood. I just like seafood pizza. Oh, and smoked salmon – that is good too!
Continue reading →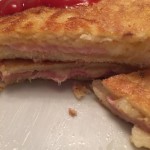 French toast, also known as eggy bread, makes a great breakfast. The bread is usually dipped in beaten eggs and then pan-fried until golden brown. This recipe takes the classic French toast to the next level, however, by adding ham and cheese to the mix. This is known as a Monte Cristo sandwich, and can be pan-fried or deep-fried. Ham and cheese French toast is something kids love, and so do the grownups!
Serve ham and cheese French toast with some ketchup for breakfast, brunch or a hot snack at any time, and enjoy the wonderful flavors. This is a snack which is sure to keep you feeling satisfied until your next meal. Serve these sandwiches hot from the pan and enjoy the wonderful crispy outside and the gooey cheese inside.
What Bread for Ham and Cheese French Toast?
You can use any kind of bread for ham and cheese French toast, perhaps baguette or ciabatta, or even regular sliced bread. It is best to use day-old bread because very fresh bread is more delicate and can tear. Use ready-sliced ham and cheese to save time. Cheddar is good here, or you can use any other type of melting cheese you want. Emmental or Gruyere are really good in this Monte Cristo recipe as well. Continue reading →
Some More Hot Content For You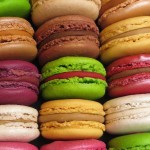 A macaron is a French meringue-based treat, made with powdered sugar, white sugar, egg white, almond and food coloring. These delicious little bites are often composed of two macarons sandwiched together with buttercream, jam or ganache, and you can get many different flavors. You can even make your own easy French macaron recipe. Don't confuse macarons (with one O) with macaroons (with two O's) – the latter are heavy, coconut cookies.
Macarons are been around for hundreds of years, and they are believed to date back to 8 AD. Italian pastry chefs accompanying Catherine de Medici in 1533 when she married Henry II of France, brought the recipe with them. 1792 was when these confections started to become famous, when a pair of Carmelite nuns sought asylum in Nancy, France, and they baked and sold macarons to fund their housing.
No fillings or flavors were used in these early macaron recipes so our easy French macaron recipe is a bit different to the original. The fillings came about in the 1830s. There are 2 different ways of making macarons, the French way and the Italian way, and it depends how the meringue is prepared. Continue reading →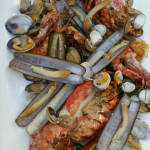 Plateau de fruits de mer is the French term for seafood platter, and this recipe comprises both cooked and raw seafood on a chilled platter, often on a bed of ice. If you order a fruits de mer recipe, you can expect shellfish along with bread, mayonnaise (preferably homemade) and condiments like cocktail sauce and mignonette sauce. The serving platter will be above table level on some kind of stand, and sometimes there are several tiers, both to make it look for elegant, and also because some of the shellfish is served on the half-shell or in the full shell, and then it takes up a lot of room.
A fruits de mer recipe is traditionally served after midnight mass in France as a Christmas treat. Fill your tiered platter with as much wonderful seafood as it can hold and chill the rest until you are ready to replenish it. Prepare homemade mignonette and mayonnaise, ensure you have plenty of bread and white wine (or Champagne) and get ready to wow your dinner guests with this authentic French seafood dish. Gin goes well with seafood so perhaps serve martinis or even gin and (a good quality) tonic before you bring out the show-stopping pièce de résistance – your icy platter of shellfish in all its glory.
Do you have a simple platter or tiered platter for your fruits de mer recipe? If not, you can use a cake stand under a dish to give your fruits de mer recipe some height. Spread the surfaces with crushed ice and add seaweed for decoration if you have some. Use coarse dishwasher salt instead of ice if you are not serving the dish immediately.
Arrange your seafood on the tiers and drape a couple of the prawns over the sides. Add mayonnaise, lemon wedges and maybe some mignonette too. Serve the bread on the side and make sure everyone has a little bowl with water and a slice of lemon so they can wash their hands, or at least some moist towelettes. You can buy little pins for the winkles, so people can get them out of the shells, and other implements.
Continue reading →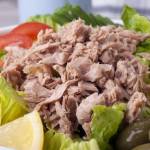 The classic French tuna nicoise salad is made with tuna, tomatoes, eggs, and nicoise olives. It can be served on a platter or on single plates. Some people like to serve it on a bed of salad leaves while others do not. You can use cooked or canned tuna.
Perhaps you have had this before in a French restaurant, in which case it would have been made with ahi tuna (or canned tuna if it was a more casual setting). The following recipe shows you how to recreate this wonderfully balanced dish yourself.
Optional Ingredients in Tuna Nicoise Salad
Optional ingredients in tuna nicoise salad might include shallots, sweet red peppers and artichoke hearts. You will not find cooked vegetables in this salad though, apart from the potatoes and green beans.
This is a very tasty tuna nicoise salad recipe, and you can tweak it if you wish, making it with fresh ahi tuna rather than canned, or making any other adjustments you want. The following recipe is ideal served for lunch or you could serve it as a light evening meal.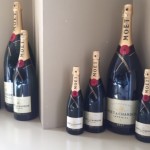 Although there are lots of types of sparkling white wine to choose from (cava, prosecco etc) it is fair to say nothing is the same as champagne. This sparkling white wine is made from chardonnay grapes in the Champagne region in France and is produced in a specific way. It is worth knowing how to enjoy champagne since its fullest so you can treasure every sip of this exquisite drink.
The rules of champagne making demand secondary fermentation of the champagne wine in the bottle to create the carbonation. The main grapes used to make it are white chardonnay, pinot meunier and black pinot noir, although these vary. A 'blanc de blancs' champagne, for example, only contains the chardonnay grape.
This wonderful fizz has been associated with royalty since the 17th century and the leading champagne manufacturers tried hard to associate their product with royalty and nobility with their packaging and advertising, which also brought it into the hearts of the emerging middle class. Continue reading →
Other Posts You Might Like