Fish Recipes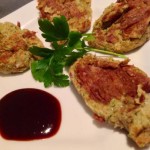 I had some leftover broccoli and decided to experiment a little, after the success of my vegetable jeon the other day. These Korean tuna and broccoli pancakes came out really well and I decided to share the recipe. They are so good!
What are Jeon?
Jeon (pronounced jun) is a Korean pancake and these fantastic little snacks make a great appetizer, or you could serve them as the main dish. Suitable for breakfast, lunch, dinner or just a snack, there are lots of different jeon recipes.
Making this Korean tuna and broccoli pancakes recipe is easy. Combine an egg, a couple tablespoons of flour and a handful of your main ingredient (could be mashed butterbeans, canned tuna, grated vegetables or anything else you fancy) with your preferred seasonings. You can then divide the mixture into patties and saute them in a skillet until golden brown. Continue reading →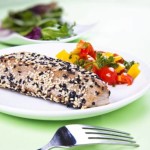 This tuna with a sesame crust is a fabulous way to showcase the wonderful flavor of fresh tuna, and you will not believe just how easy this recipe is to make, even if you're new to cooking fresh fish or don't often do it
Even a total novice in the kitchen will be able to pull this recipe off and end up with a very impressive dish.
To make it, you just need some tuna steaks and sesame seeds, both black and white, and then some oil for frying and salt to add extra flavor. In addition to that you will need a big nonstick skillet.
Tips for Cooking Tuna with a Sesame Crust
There is nothing hard about cooking fresh fish, especially not tuna. The only thing to watch out for is not too overcook it. Tuna is lean which means it can dry out if you're not careful, and you don't want to do that to this delicious fish. Continue reading →
Some More Hot Content For You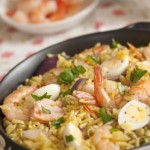 This kedgeree recipe is a traditional British breakfast from colonial India, offering a great balance of smoky and spicy flavors. Enjoy this for lunch or dinner. It is also good for breakfast if you fancy something fishy. Yes this dish is usually made with rice but try kedgeree made with couscous if you want something deliciously different.
Shrimp and haddock are combined with the rice or couscous and there are hardboiled eggs and onion in there as well, and some lemon juice which brings out the lovely fishy flavors.
This kedgeree made with couscous recipe is much simpler to make than you might have thought, so why not try this at the weekend and it might become your favorite breakfast?
A lot of people wait until they are in a hotel to sample a kedgeree breakfast for the first time, and then want to recreate it at home. If this sounds like you, then you have the recipe now, and this one is really good. If you want to make a gourmet version of this, simply swap the smoked haddock for smoked salmon. Continue reading →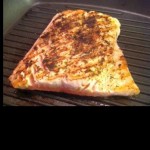 Salmon is one of my favorite fish to cook. It is high in omega-3's which are essential for good health and the flavor is just amazing. That's why I enjoy making this 3 ingredient cajun griddled salmon recipe.
Sometimes I like to spice it up by adding Cajun, Mexican or Indian spices, but other times I like the salmon just as it is, perhaps with a squeeze of lemon or  just some salt and pepper. Salmon is nice added to a risotto or quiche. There are so many things you can do with this wonderful fish.
The following 3 ingredient cajun griddled salmon recipe just requires 3 ingredients, and those are some Cajun seasoning which you can buy in a package, a little oil and the salmon itself. Griddling needs a high heat so you might not even want to use the oil. Continue reading →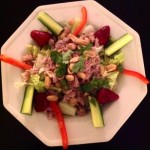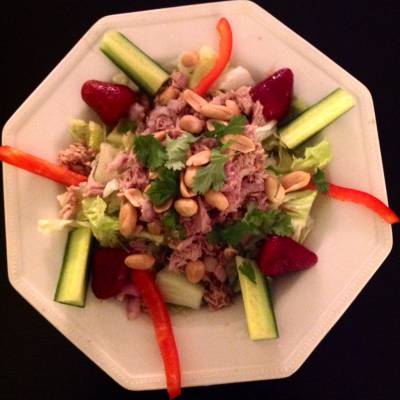 This Thai tuna salad is a great recipe because you can throw it together in about 10 minutes. Canned tuna is often nice in Asian recipes and I have used it in stir-fries before. This recipe adds Thai ingredients to the mix to offer an authentic Southeast Asian flavor.
There is no cooking involved in this Thai tuna salad and you can have this on the table in less than half an hour from right now, if you have all the ingredients. If not, feel free to make adaptations because there are plenty of tweaks you could make to such a versatile dish.
Thai Tuna Salad: Play with the Flavors
Maybe you would like to switch the spices. I used ground ginger because I didn't have fresh, and you can see in the photo I also added some strawberries for color, and some strips of cucumber and bell pepper for color and crunch too. Continue reading →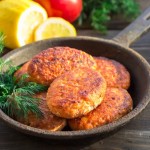 Fishcakes make an excellent meal, accompanied by a salad or your choice of vegetables, and they are also ideal for a low carb diet, making a change from the steak or chicken you might be getting tired of. Make these low carb fishcakes because you will love the taste and they don't taste like diet food at all.
A lot of people start low-carbing and over-indulge in the red meat, then wonder what else there is. Repetition can be good because you can stick to the same meals all the time but for some people repetition can be their downfall because they get bored, so add some low carb fishcakes to your meal rotation to keep things interesting.
This low carb fishcakes recipe is really easy to make. If you have a food processor, this recipe is quicker to make, but you can also make it without out. If you are used to eating regular fishcakes, you might be wondering what the potato and breadcrumbs are replaced with, to make these low in carbs.
The egg whites help the low carb fishcakes mixture to stick together, while the other ingredients add all the flavor you need. Sauteing these in hot oil will give them a nice crusty outside. Continue reading →
Other Posts You Might Like