Pork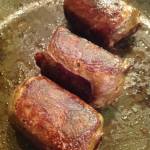 Slavink is a Dutch meat recipe you will spot in grocery stores in the Netherlands, nestled in the pork area. These can best be described as a rectangular meatball wrapped in bacon. Go back in history and you will find a Dutch slavink recipe was originally a small songbird wrapped in bacon.
In the south of Europe you can still find such a dish despite many people trying to outlaw the dish, but the modern Dutch version used ground beef and/or pork instead. In fact many of them use a half beef/half pork mixture to create a Dutch slavink recipe which is popular locally.
Butchers in the Netherlands make their own slavinken, which is the Dutch plural of slavink. We suggest you make a batch of them too because they freeze well. If you want to do this with your Dutch slavink recipe , wrap them individually in plastic wrap and then put them all in one large Ziploc bag. Let them thaw overnight or for at least 12 hours before using.
The size you make the slavinken is up to you. Some people make them big, like one per serving, while others prefer smaller ones – several per serving. Because these Dutch meatballs are wrapped in bacon which releases fat in the pan, you will not need to add much, if any fat to the pan. Serve them with mashed potatoes, mushrooms and onion, for a traditional Dutch recipe.
Continue reading →
The following crockpot recipes for weight loss are perfect for making in a slow cooker. One of the benefits to using a crockpot is you can tip the ingredients in there in the morning, then go to work or out for the day. When you get home your meal will be ready! This mean you don't have to stand over the stove, nibbling on snacks you shouldn't be having, but you can eat your healthy meal right away.
A crockpot, also known as a slow cooker, is an electrical appliance used to gently simmer food. The temperature is kept low so your food slowly cooks over a period of hours. A basic model should have a low and a high setting while others might have a warm setting or even 'keep warm' which means once your dish has finished cooking it will keep warm. This is why preparing crockpot recipes for weight loss is so easy.
Which Crockpot Recipes for Weight Loss to Make in There
Crockpot recipes for weight loss come in all shapes and sizes including mini ones which you might use to cook a chicken breast for one person or a small amount of hot dip, right up to huge ones to make a batch of soup for freezing in portions or a meal for 8 people.
You can choose from round ones or oval ones which are good for cooking, say, a whole chicken, and you can choose from different brands and price tags depending on the features you want your crockpot to have.
Continue reading →
Some More Hot Content For You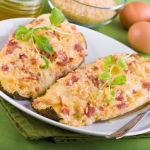 Low in calories but high in flavor, this wonderful baked stuffed zucchini boats recipe is sure to please your palate. The middles of the zucchini are scooped out and then you can add a wonderful ham and cheese filling, and bake them to perfection.
This is a very easy baked stuffed zucchini boats recipe which is nice served with Spanish rice or risotto, and just as nice served alone as a savory snack. If you want to make this dish vegetarian friendly, simply omit the ham, or else you might like to swap it for shrimp, salmon, walnuts, or pretty much anything else.
Tweak the Filling to Make It Your Own
The main ingredients in this baked stuffed zucchini boats dish are the zucchini and the cheese, so just add whatever you want to that mixture. You can also swap the ham for bacon, for a slightly different flavor, or even add some sausage.
Continue reading →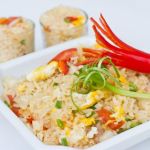 Egg fried rice without soy sauce is a dish lots of people want to make but since soy sauce is one of the key ingredients it can be puzzling working out how to get around that. Fried rice is one of the best-known Chinese dishes, but the authentic recipe is quite different to what you might be used to. For example, have you tried making egg fried rice without soy sauce? That is how it is made in China, well in many parts of the country, and the more authentic option in many cases.
Egg Fried Rice without Soy Sauce: Such a Tempting Dish to Make
Egg fried rice is the dish to make when you want to use leftovers to rustle up something quick and easy, something comforting and tasty, something literally anyone can make regardless of culinary expertise or cooking experience.
This egg fried rice without soy sauce dish is easy, folks, and delicious too! But before you grab your wok and leftovers, you need to know a few tips about how to make the best egg fried rice recipe ever.
Egg fried rice is found all over the globe, either the authentic version or something more tailored toward the country in question. In China, egg fried rice is considered a meal rather than a side dish, and it might be enjoyed for breakfast, lunch or dinner.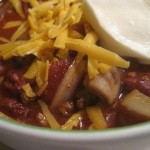 Look at this tempting selection of recipes and consider making chili for dinner tonight. After reading some of these easy chili recipes perhaps you won't be able to resist! Nothing beats yummy chili, after all.
Chili con carne is so simple to make and it is really flavorful. Here we have not only 30 recipes for chili but also plenty of hints and tips to ensure yours comes out really well, and also some videos and other suggestions to ensure your best chili recipes are always a huge success, and something you will eagerly anticipate making again and again.
Chili con carne has a rich history with much speculation regarding where the dish originated. However, it is believed to have originated in Mexico in the 17th century, and has continued to grow in popularity. The straightforward dish of ground beef, beans and spices is popular all over the world, and can be as hot as you can tolerate. There are easy chili recipes for every palate, from mild to spicy and everything in between.
Typical Chili Flavors
The distinct flavoring of cumin, cayenne and chili powder ensure that this dish provides a warming meal for everyone.
Continue reading →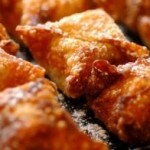 Wontons are great when served as a snack or appetizer and if you have only ever eaten meat ones in a Chinese restaurant or had them from a takeout, you really are in store for a treat when you make your own easy wonton recipes with pork. Any home cook will be able to manage this recipe without too much effort although, like with most dishes, the more you make these, the easier the process will seem to become.
Different Cooking Methods for Easy Wonton Recipes with Pork
Deep-fry them for crispy, crunchy snacks, or steam or simmer them for a softer result. You could even poach them in your favorite broth for a wonderfully warming lunch or supper. Yes wontons really are that versatile and you can choose whether you want them for an appetizer or the main dish, choosing whether you make a few crispy ones to kick off your dinner in style, adding an oriental accent to the meal, or prepare a homemade wonton soup full of delicious homemade wontons.
Another possibility is potstickers, those soft wontons with a crispy side that are made in a pan. Any of these would make a wonderful appetizer or entree. Nothing beats wontons sometimes, and there are easy wonton recipes with pork for every palate.
Continue reading →
Other Posts You Might Like