Monthly Archives:
February 2014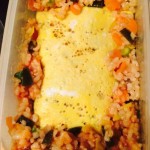 Also known as omurice or omu-rice, omuraisu is a typical Japanese dish featuring fried rice and omelet, and often some ketchup too. Omuraisu is a contraction of the Japanese words for omelet and egg. This omuraisu recipe is not hard to make and you will love the flavor.
This dish can be found in Western style restaurants in Japan as well as in Japanese homes, and it was also introduced to Korea under Japanese rule. You can find it in Taiwan too which was also under Japanese rule for some time. This dish has been around since the early 1900s.
Different Kinds of Omurice
Chicken rice, chicken and vegetable rice or beef rice can be wrapped in a thin fried egg sheet to make an omuraisu recipe. Sometimes ketchup or white sauce is added to the rice. Continue reading →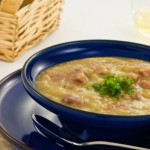 Add ham to your lentil soup and not only do you have a tasty, nutritious soup but you can also enjoy the meatiness that ham adds in there. Ham and lentil soup is great for lunch or as a comforting, warming snack.
Whether you are using a ham hock or some leftover cooked ham, you can add that flavor to the lentil soup and be guaranteed that it will come out beautifully.
Ham and lentil soup is usually thick and chunky, and the lentils will start to disintegrate when they are cooked, thickening up the soup without you needing to add starch or another thickener.
Why You Should Make this Ham and Lentil Soup
This is a great recipe for home cooks because it is so easy. Also, lentil and ham soup is an economical option. Buy some dried lentils and ham and you can prepare this wonderful feast in next to no time. Continue reading →
Some More Hot Content For You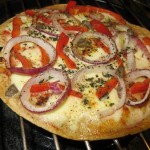 This low carb tortilla pizza is incredibly good and it takes about 10 minutes to make and the same again to cook. Whether or not you have made pizza before, you will find this low carb tortilla pizza incredibly simple, and the sky is the limit as far as toppings are concerned.
Use a low-carb tortilla to make your pizza. I recommend the Mama Lupe ones because they're so good and only 3 carbs (and 60 calories) each. And they are the closest in flavor to regular tortillas. I also tried the La Tortilla brand for my low carb tortilla pizza because those are only 50 calories each but… nope not as good as the Mama Lupe ones.
This low carb tortilla pizza recipe makes a fabulous dinner, and it is also quick enough to make for lunch. Whatever meal you are making this pizza for, you are sure to find it filling and delicious.
Keep some low-carb tortillas in the refrigerator (they keep for weeks in there) and rustle one of these up whenever you're in the mood for some comfort food! Continue reading →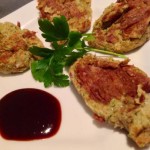 I had some leftover broccoli and decided to experiment a little, after the success of my vegetable jeon the other day. These Korean tuna and broccoli pancakes came out really well and I decided to share the recipe. They are so good!
What are Jeon?
Jeon (pronounced jun) is a Korean pancake and these fantastic little snacks make a great appetizer, or you could serve them as the main dish. Suitable for breakfast, lunch, dinner or just a snack, there are lots of different jeon recipes.
Making this Korean tuna and broccoli pancakes recipe is easy. Combine an egg, a couple tablespoons of flour and a handful of your main ingredient (could be mashed butterbeans, canned tuna, grated vegetables or anything else you fancy) with your preferred seasonings. You can then divide the mixture into patties and saute them in a skillet until golden brown. Continue reading →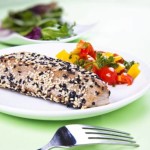 This tuna with a sesame crust is a fabulous way to showcase the wonderful flavor of fresh tuna, and you will not believe just how easy this recipe is to make, even if you're new to cooking fresh fish or don't often do it
Even a total novice in the kitchen will be able to pull this recipe off and end up with a very impressive dish.
To make it, you just need some tuna steaks and sesame seeds, both black and white, and then some oil for frying and salt to add extra flavor. In addition to that you will need a big nonstick skillet.
Tips for Cooking Tuna with a Sesame Crust
There is nothing hard about cooking fresh fish, especially not tuna. The only thing to watch out for is not too overcook it. Tuna is lean which means it can dry out if you're not careful, and you don't want to do that to this delicious fish. Continue reading →
These delicious spicy Thai corn fritters are so quick and simple to put together and they make a tasty appetizer or side dish.
All you need to make these is some corn kernels (you can use drained canned corn, or even thawed corn kernels), a little flour and an egg. Then to finish off you just need some minced or finely chopped chili pepper and a little Thai fish sauce.
How to Serve Thai Corn Fritters
Try these as a side dish or appetizer, or make them as the main dish, perhaps with some tasty salad on the side. You might like to make a batch of Thai appetizers to showcase these, so everyone can try different Thai treats, or else just make these as they are and serve with rice or else just a simple Thai dipping sauce. Continue reading →
Other Posts You Might Like